Let us pay some attention to the newly developed Korean grafted cactus that comes under such sweet names as "seolhong," "hoohong," and "saekdong."
The usual association with cactus is some thorny, misshapen, rough-looking plant standing under the scorching sun in the desert.
Well, time to shatter that association.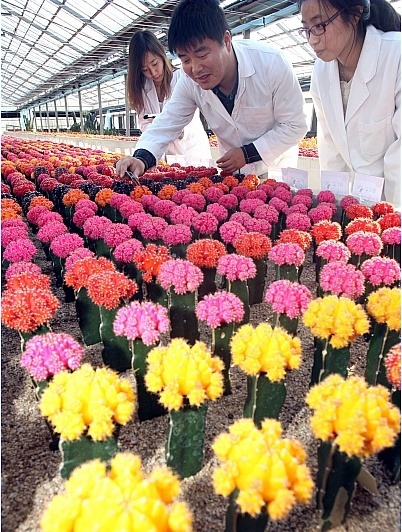 <Researchers at Rural Development Administration reviewing the quality of the grafted cactus>
The grafted cactus of Korea comes in numerous splash colors (red, pink, yellow, orange….) and sizes (a cute little cauliflower-like thing the size of your fist!).
The Rural Development Administration(RDA) exhibited its newly developed grated cactus at the horticulture fair held last November 11. The Korean grafted cactus has been garnering excellent reviews from the worldwide horticulture market with its annual volume of export exceeding USD 2 million to over 30 countries including the U.S. and the Netherlands, the leading floriculture nation.
At the flower fair, a series of rigorous eval!uation was conducted on the presented cactuses including how vivid the color is, how firm it is, its capacity to produce "baby" plant, its commercial potential and so on.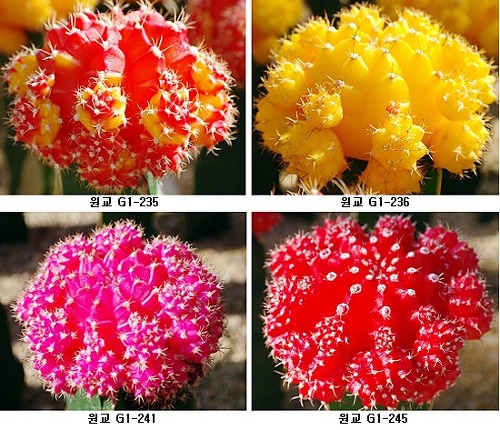 After passing through a set of meticulous tests and screening, 4 qualified cactuses will be selected to be distributed to the farms. Then they will first undergo a test production to be followed by mass cultivation. The RDA aims at USD 3 million annual export by 2012.
Well, at this rate, not reaching for stars!
Source: http://blog.daum.net/korea_brand/873 (World Student In Korea Newspaper No. 30, December 1, 2010)