Love for coffee is getting pandemic these days. You can find a coffee shop in every block of a sizable office district. Some people go so far as buying espresso machines and other coffee gadgets to furnish in their own homes. (Well, being one of those crazy coffee lovers myself, I am just being envious.)
Coffee is a highly sensitive plant, requiring specific growing conditions. It grows in subtropical regions where the temperature stays above 10 degrees Celsius even during winter. That's why farming coffee has been mostly considered out of the question in Korea.
Well, Ms. Roh Jin-Yi doesn't accept that.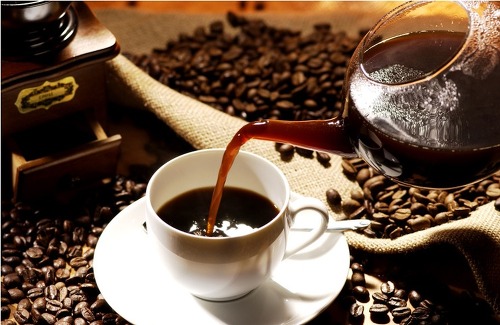 <Most of the world's coffee is grown in a band around the equator from 25 degrees
north to 25 degrees south of the equator>
Korea's First Coffee Farmer
The first coffee farmer in Korea, Ms. Roh has invested all her money and energy in farming coffee in a 400-pyeong (1 pyeong equals 3.3 square meters) green house in Jeju City since early 2008.
Despite the unfavorable conditions, even Jeju being too cold, Ms. Roh has been persistent in realizing her dream of cultivating coffee. And she has succeeded to reap enough coffee for about 10% of Jeju citizens to sample taste.
And last October, Ms. Roh even held the first Jeju Coffee Festival in her own coffee plantation. At the festival, there was coffee tasting, coffee drinking competitions, hands-on experience of roasting coffee beans and hand-dripping.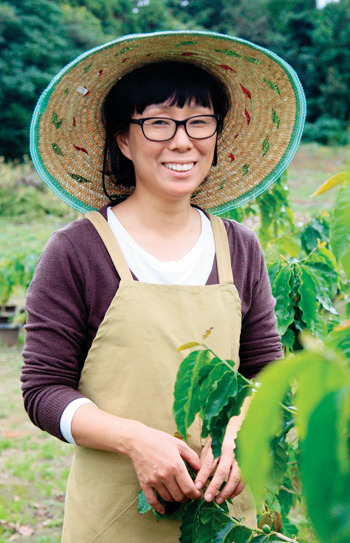 <The first coffee farmer in Korea, Ms. Roh Jin-Yi>
Hard Work, But I Love It
Ms. Roh is currently growing some 25,000 coffee trees in a 5,600 square meters plantation. And it is no easy job looking after those highly sensitive plants. They have to be watered twice a day (at the break of dawn and around sunset) for 3, 4 hours. A storm hits, and the fragile plants get all knocked out of their pots, and Ms. Roh has to spend many sleepless days harnessing them back in. They also need to get nutrition shots at regular, designated times.
Roh says she does not expect coffee farming to become a profitable business.
"It's costly to keep the green house warm and it takes 3 to 5 years from germination to harvest. But I'm doing this not because I want to make money, but because I like it," says the coffee farmer. And adds, "If I make money later, I would like to build a coffee museum," expressing her ultimate ambition.
Many cheers and well wishes to her dream!
Source: http://blog.daum.net/korea_brand/926 (World Students In Korea Newspaper No. 32, January 1, 2011)