Cultural Heritage can be divided into tangible and intangible heritage. Cultural assets with forms e.g. a palace or ceramics would belong to the former category, while formless assets such as music, dance, drama, and recreations would belong to the latter one. Especially the legacy of intangible cultural assets has been continued by the people throughout history until now, being re-created by time contributing to the diversity of culture.
UNESCO has well acknowledged the importance of intangible cultural heritage. In 1997, at the 29th UNESCO general assembly it has adopted 'Masterpieces of the Oral and Intangible Heritage of Humanity' in order to protect intangible heritage which has been under threat to cease to exist by industrialization and globalization.
In 2003 'Convention for the Safeguarding of the Intangible Cultural Heritage' was adopted by UNECO and it designated an 'Urgent Safeguarding List' and 'Representative List' of intangible cultural heritage of humanity. In 2001, 19 assets have been assigned as intangible cultural heritage and the list of it is on increase since then. Last October the food culture of France and Mexico was added to the list receiving lots of attention.
CHA produces DVD on Intangible Cultural Heritage of Humanity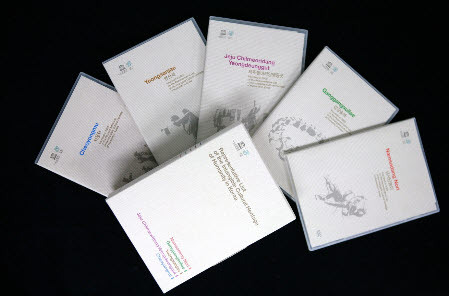 Half of cultural assets inscribed on the UNESCO Intangible Cultural Heritage List are those of Korea, China and Japan; Kabuki theater of Japan, the Dragon boat festival and Acupuncture and moxibustion of traditional Chinese medicine of China. Korea has eleven assets on the list; the Royal Ancestral Ritual in the Jongmyo Shrine and its Music, the Pansori Epic Chant, the Gangneung Danoje Festival, Cheoyongmu, Ganggangsullae, Jeju Chilmeoridang Yeongdeunggut, Namsadang Nori, Yeongsanjae, as well as Daemokjang (traditional wooden architecture), Gagok (lyric song cycles accompanied by an orchestra), and Falconry the last three recently added to the list.
The National Research Institute of Cultural Heritage (NRICH), Cultural Heritage Administration of Korea produced contents with foreign language services introducing the eleven assets distributed by this month. A video clip on five assets inscribed on 2009 (Cheoyongmu, Ganggangsullae, Jeju Chilmeoridang Yeongdeunggut, Namsadang Nori, Yeongsanjae) is as well produced in three language editions with Korean, English and French. The clip includes a brief introduction on each relevant item that will be a useful resource for foreigners interested in Korean culture.
To promote active use of it, NRICH will distribute those video clips to relevant organizations and researchers in Korea and overseas, as well as providing online access to the material at NRICH homepage. High-quality contents on the intangible cultural heritage of Korea acknowledged by UNESCO is planned to be developed, produced and distributed every year. Such attempts is expected to improve a worldwide recognition on those heritages of Korea that has been under-promoted, despite of its value and significance representing the history, culture and identity of Korea.
The Intangible Cultural Heritage, the dwelling place for the Korean Spirit
<Namsadang Nori, No.3 Important Intangible Cultural Properties of South Korea>
Let's take a closer look to the five cultural assets featured on the DVD produced by NRICH.
Namsadang Nori is the no.3 important intangible cultural properties of South Korea. Literally meaning 'all-male vagabond clown theatre,' it is a traveling entertaining theater troupe consisted of forty to fifty men enjoyed by the common people.
Kkokdusoe (the head of the group) leads the group followed by gombaengisoe, tteunsoe, gayeol, ppiri, and jeoseungpae performing the six sessions of nori (recreation) that are Pungmul, Beona, Salpan, Eoreum, Deotboegi, and Deolmi. Its origin derives from late Joseon. It was to wish peace and wealth for the villages and deliver joy to the common people through various music and performance.
Ganggangsullae, the no.8 important intangible cultural properties of South Korea, is a more familiar traditional recreation of Korea. The tradition comes from the South-western area of Korea performed to wish good harvest and fecundity.
Especially a grand Ganggangsullae used to be performed on the night of Chuseok (Korean Thanksgiving), which origins back from the Japanese Invasion of Korea in 1592. Admiral Yi Sun-shin lighted up torches on the hill and gathered women to play Ganggangsullae to fake the size of the army to the enemy and later the play continued to sing joys and sorrows of life.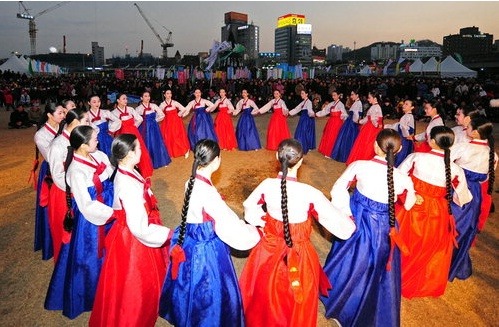 <Ganggangsullae, No.8 Important Intangible Cultural Properties of South Korea>
Cheoyongmu is the final dance of Narye and Yeonre, successive national royal events of Korea. It is the only royal dance performed with human face masks. The narrative of the dance is about getting rid of misfortune based on the principle of Yin-Yang and the Five Elements. Through its dazzling and confident movements the dance delivers great energy and vigor to the audiences.
Yeongsanjae is a kind of 49 jae (a Buddhist memorial ceremony held on the 49th day of one's death). It is a ceremony for spirits to attain eternality based on the Buddhist faiths. It cultural value is recognized for reproducing Young-san Hwe-sang, reminiscences of preach Sakyamuni has performed on Vulture Peak Mountain; also called as Young-san jak Bup, a representative providence ceremony of Buddhism.
Jeju Chilmeoridang Yeongdeunggut is a kind of haenyeo gut (haenyeo means female diver, gut is a type of exorcism) that is part of the unique cultural heritage of Jeju along with haenyeo and folk religion. It has a cultural meaning as a cultural festival embracing the local community and encouraging mutual understanding between the people living on Jeju Island.
To preserve these inherited cultural assets of Korea an active promotion on the international stage should be continued. An active support and participation from the Korean people preserving and promoting their cultural heritage should be followed as well.
Source: http://blog.naver.com/korea_brand/10101088018 (World Students In Korea Newspaper No. 33, January 14, 2011)