In the 70s and 80s young Koreans listened to American pop music admiring the American pop stars, however in 2010 the picture seems to have changed. Hanlyu (the Korean wave) in Japan and Thailand is now moving on to the Northern America; Korea is now receiving fair attention from their American fans enjoying Korean pop music. The fandom of Korean pop music (K-pop) is growing beyond its region reaching to America and Europe, the heart of pop music.
Hip hop, R&B, electronic dance and etc. has originated from the Western cultures, yet these genres have been interpreted by Asian sentiments in Korea and developed a unique style of pop music. It then has been introduced back to the global market; it is pop music but from Korea. A recent research on K-pop video views statistics on YouTube, a global video-sharing website, well illustrates this phenomenon.

Hanlyu in America
The Korea Daily (Korea Joongang Daily USA) totaled the views of K-pop video clips on YouTube of year 2010, which counts those of netizens from 229 nations. 923 video clips of Korean pop-stars who belong to Korea's top three major entertainment management agencies were analyzed and 793,570,000 was its total hits; by continents, views from Asia was 566,270,000, Northern America 123,470,000 and Europe 55,370,000. While Asia showed the largest number of views yet an increase of those in the US is shown: the number, 94,870,000 views in total, ranked third following Japan (113,540,000 views) and Thailand (99,510,000 views).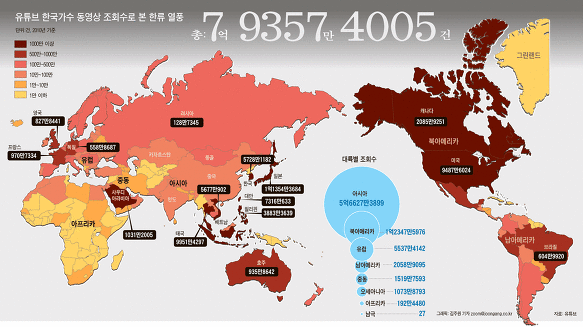 <K-pop video views on Youtube and Hanlyu> (reference: Joongang Daily)
In fact, this is not that surprising if we take a look to rising K-pop starts receiving attention overseas. Recently Wonder Girls, a representative K-pop girl group success example in the overseas market, performed on the legendary funk band – Earth Wind & Fire's 40th debut anniversary opening stage receiving favorable response from the audience.
Wonder Girls earlier performed the opening stage of a mega concert of which top musicians of America including Stevie Wonder had participated; there they received enthusiastic response for their songs Nobody and Tell Me while some fans following their song and dances. With their hit song Nobody, Wonder Girls became the first K-pop start to have their song ranked on the Billboard Hot 100 in 2009 and as well had been introduced by Chicago Tribune, one of the 10 major newspapers in the US, on their daily paper and online site.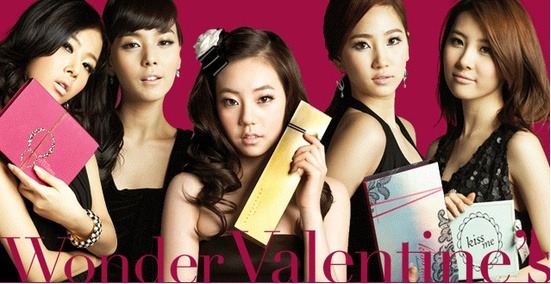 <Wonder Girls> (photo: Naver Blog)
After the success of Wonder Girls other K-pop singers has been active to enter the overseas music market. JYJ a boy group of three members separated from the previous Dong Bang Shin Ki is planning to release their first regular album in the US. In fact they are the first Korean singer to make a contract with Warner Music, one of the top three major recording labels in the world; Warner will produce and distribute JYJ's first US album and Kanye West, a renowned musician and producer will be participating. For such reasons even before its release this album received great attention introduced on the main page of Billboard magazine online.
In addition, BoA, who already has a bigger fandom in overseas as a singer will this time  play the main role in Duane Adler's – a renowned screenwriter of 'Step up' and 'Save the Last Dance' – new film as an actress.

Why K-pop?
Actually America has much more variety of popular culture; then what makes it possible for K-pop seem to do quite well while American pop world has been dominant? We hear from one American fan, Savannah Daniel who visited Korea to meet her favorite K-pop star G-dragon (a member of Big Bang, a K-pop boy group). She explains her fondness for K-pop is the powerful rhythm and the passion of dances compared to American pop. Last December 26, she finally met her favorite K-pop star happily leaving back to America.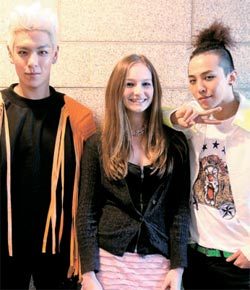 <K-pop fan Savannah Daniel (middle) with G-dragon (right)
and Top, members of Big Bang>
Song Gi-chul, a pop music critic explains the rising popularity of K-pop overseas due to its matching musicality to American pop while discovering more talented singers. According to Song, for such reasons K-pop was able to attain positive attentions from overseas.
K-pop video hits on YouTube is increasing not only in America but also other countries, which it fact indicates possibilities of K-pop to be successfully introduced to other parts of the globe, besides Korea and besides the States this time. For example, people from Middle East countries e.g. Egypt (630,000 views), Kuwait (414,000 views) and other relatively exotic countries e.g. Montenegro (220,000 views), New Caledonia (140,000 views) and Guadeloupe (10,000 views) were even watching some K-pop videos on YouTube.
With a more organized and helpful support we hope to see more K-pop and K-pop singers to be enjoyed by many fans overseas this year.
Source: http://blog.daum.net/korea_brand/987 (World Students In Korea Newspaper No. 34, February 8, 2011)