The superior species and high production quality of Korean mushroom is proved through its great texture and taste, already having been renown overseas. Today Korean mushrooms have attracted the Swiss people being one of their favorite dishes.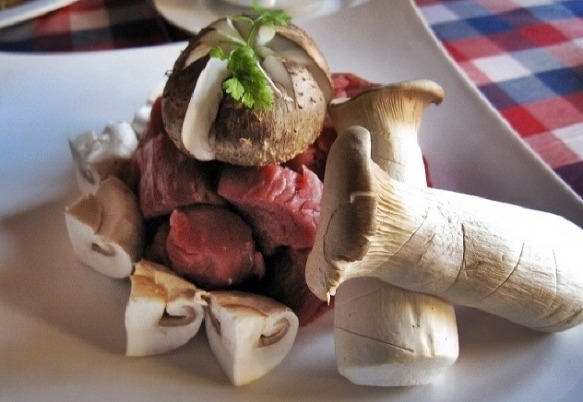 Korean mushrooms spotlighted as high-quality food
Jelomli, a grand department store of Zurich, the largest city in Swiss has Korean mushrooms on their sales list, sold at the lower ground grocery section, along with a variety of other raw mushrooms. Here Korean king oyster mushrooms are sold by 30-40 franc per kilogram, quite expensive which is equivalent to 35,000 ~ 47,000 won in Korean dollars.
Swiss people, on sunny days, often enjoy barbeque parties with their family and friends sharing grilled meat and sausages, and the Korean king oyster mushrooms as the only vegetable to be added on the main grill list. Taken as a high-quality food item, the king oyster mushrooms are enjoyed for its bigger size and thick texture that is much suitable for a grill party compared to button mushrooms.
In Swiss, now it is not that difficult to meet these mushrooms from Korea in Swiss as they are not only supplied to department stores but also to Migros, the largest supermarket franchise in Swiss.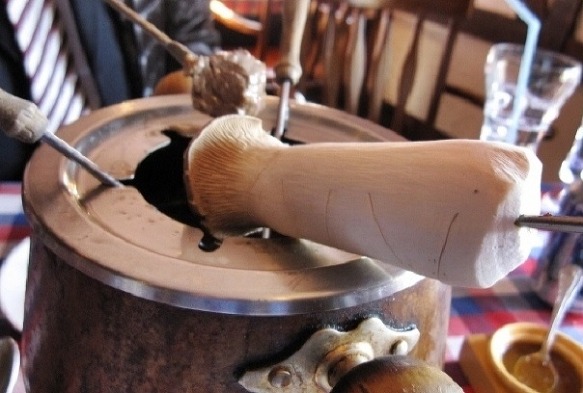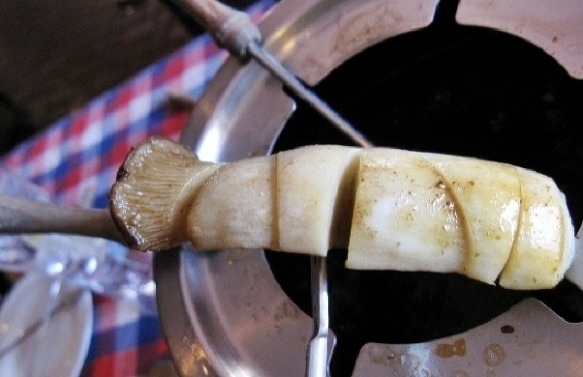 <King oyster mushroom and filet mignon, a menu of Alt Swiss Chalet,
a Swiss restaurant in Itaewon, Korea> (Photo: Naver blog)
In Swiss, mushrooms are widely enjoyed by the people being one of the most popular food often used as an ingredient for sauces or even as main dishes. Regarding the sales of button mushrooms the amount of its consumption are 13,000 tons annually; 8,000 tons of raw mushrooms and 5,000 tons of cooked mushrooms. Here 7,000 tons of raw mushrooms are produced in Swiss and the import! rate of the total market consists of 15 percent. The Swiss people do seem to favor mushrooms a lot!
Cannot imagine a life without mushrooms!
The Swiss people in love with mushrooms
Even the economic crisis did not stop the Swiss fondness for mushrooms. In the second half of 2008 when the economic situation was not favorable, consumers did not cease to spend money on mushrooms. In 2009, rather the total consumption increased adding 300 tons compared to the former year. In fact, the fastidious Swiss customers looking for the best qualities seem to continuously increase the needs for fresh mushrooms.
Button mushroom is the most largely produced and consumed one in Swiss, which is a very traditional kind. However, Asian kinds started to receive attention along with the rising popularity of foreign mushroom species. These days foreign mushrooms that have been introduced during the 1980~1990s including shiitake, king oyster mushroom, grifola frondosa are now receiving some spotlight. Especially shiitake is enjoying popularity being ranked second in the consumer preference.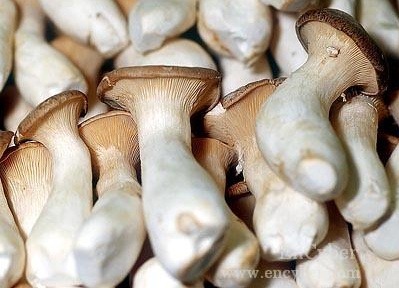 It may be no surprise that Korean mushrooms with high quality and taste has successfully created its market in Swiss. It had past 3~4 years since Korean king oyster mushrooms joined the dishes of the Swiss dining table.
Now the annual amount of mushroom import!s are over two hundred million Korean won. This was possible by both continuous efforts put to improving species and through quality control.
In 2009 renowned chefs from all over the world have visited Korea to participate in the 'Amazing Korean Table,' and Korean mushroom was used by all chefs. A variety of mushrooms were grilled or slightly boiled to be used as ingredients or become the main dish itself.
The taste and flavor of Korea mushrooms seems to prove its real worth no matter where it is. As the Swiss fondness for mushroom continues the future of the Korean mushroom overseas market is expected to be positive; we hope to create a broader international market, in addition to Swiss, for all consumers who want high quality mushrooms.
Source:http://blog.naver.com/korea_brand/10103162079 (World Students In Korea Newspaper No. 35, February 16, 2011)