For those thinking of a spring day out, then this might be what you would be looking for!
The unusually cold March has gone, and now we have warm sunlight telling that Spring is just around the corner. The field flowers are welcoming the spring which returned after a long absence. The fragrance of Spring is reaching at every corner including mountains, fields, and even center of the city.
Uiseong Cornlian cherry flower festival (Uiseong-gun, Gyeongbuk-do)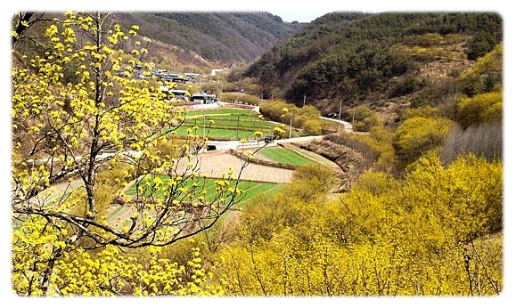 <Cornlian cherry flower> (Authorized by Uiseong-County Office http://tour.usc.go.kr)
The 'garlic' town, Uiseong, is now busy preparing the upcoming spring festival. They will soon have the festival of Cornlian cherry flower whose yellow bud would remind you of a shy girl. Starting from the Ritual for a good harvest, the Night for the multicultural family, Singing contest, Walkathon, and other various events will be open from 26th March for a couple of weeks. Why don't we go on a Spring trip to Uiseong surrounded by the scent of these yellow flowers? It will definitely be a wonderful memory that you can have with your family and your loving friends.
Period: 26 March 2011 (Sat)~ 10 April (Sun)
Location: Sansuyu Square Hwajeon-ri, Sagok-myeon, Uiseung-gun, Gyeongsangbuk-do
The Han River Spring Flower Festival (Yeongdeungpo, Seoul)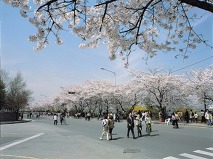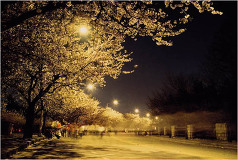 <The Han River Spring Flower Festival>
There is another festival for those who cannot afford to go out of Seoul. Office workers will be glad to hear this! There will be Spring Flower Festival in Yeoui-do from 8th April with the theme, "Harmony of Flowers, Nature, Human, and Arts". You may find over 13 types of 87,359 spring flowers, such as azalea, forsythia, royal azalea, bridal wreath, including 1,641 trees of prunus yedoensis.
Why don't you go for the Han River Yeouido Spring Flower Festival for the weekends?
Period: 8~ 19 April 2011
Location: Yeoui-do Park Yeouido-dong, Yeongdeungpo-gu, Seoul
Azalea Art Festival at Mt. Goryeo (Ganghwa-gun, Incheon)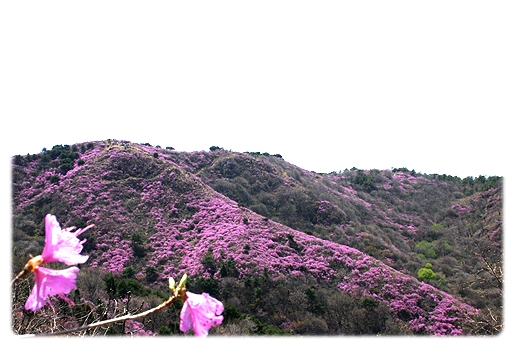 <Mt. Goryeo covered with Azalea>
You might not know this Spring Flower Festival that recorded over 350,000 visitors last year including the people from capital area. Well, the name is "Azalea Art Festival at Mt. Goryeo". This year as well, we will have this festival that we can enjoy not only azalea but also the historical culture and clean environment of Ganghwa. The festival contains art exhibition, photo exhibition, and small concert along with the trail, cooking Hwajeon which is a pan-fried sweet rice cake with flower petals, and street art performances, and other various programs. It will be held from 4th to 9th April for 9 days, but the culture event will be held for 4 days during weekends. If you want to be a guest of this nature's purple feast, this festival will be perfect.
Period: 9~ 24 April 2011
Location: Mt. Goryeo Hajeom-myeon, Ganghwa-gun, Incheon
Shinan Tulip Festival (Shinan-gun Jeollanam-do)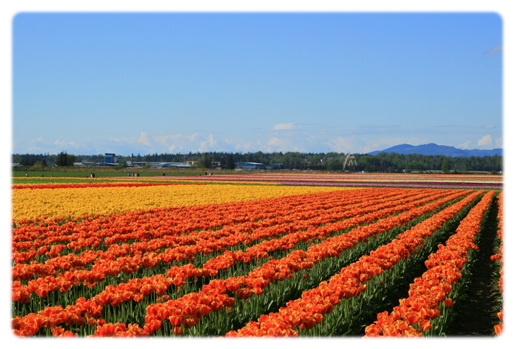 <Shinan Tulip Festival>
Shinan, Jeollanam-do, which is well-known for its heavenly nature, was selected by domestic flower experts as a best area for planting tulips with its fertile soil, abundant amount of sunshine, and a lot of sea breeze. Since 2001, they have planted tulips in the nation's largest area which occupied 10 hectares, and ready for the 4th Tulip Festival from 15  April. You will enjoy the various ceremonies from orchestra performance to Pungmul play, If you don't want to miss it, do not hesitate!
Period: 15~24 April 2011
Location: Shinan Tulip Park, Imja-myeon Shinan-gun, Jeollanam-do
If you have a chance to see those flowers signaling the arrival of Spring in everywhere but soon will be gone, this is the best time to see the blossoms. Let's go!
※ Source of Photos: Korea Tourism Organization
Source: http://blog.daum.net/korea_brand/1095 (World Students In Korea Newspaper No. 38, April 15, 2011)