Korean corporations, which have been key players in the Korean economy, are now taking a prominent role in nongovernmental diplomacy. The works vary from eradication of poverty and hunger to establishment of schools and libraries. These projects are not the one-off event, but very substantial and specific aid since they involve the interaction with local people and keep providing them with services, which are urgent. Here are some aspects of 'Affectionate Korea' in the world.
'Springtime of my hometown', a Korean children's song echoed in Indonesia

A familiar song is heard from Elementary School Menteng in Jakarta, Indonesia. Indonesian students sing a Korean children's song 'Springtime of my hometown' to the piano accompaniment. It sounds strange to hear a song sung in Korean at a local school of Indonesia not at Korean schools.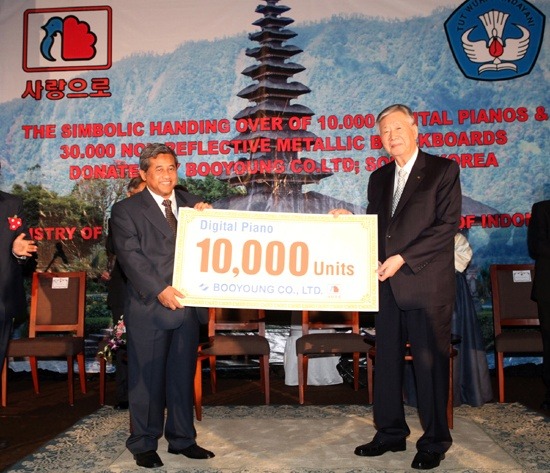 <Lee Joong-keun(right), the chairman of Booyoung Co., Ltd., handing the certificate of donation of 10,000 units of digital piano to Muhammad Nuh, the Minister of Education, Indonesia>
(Photo: Korea Land Daily)
It is because Booyoung Co., Ltd., a construction company of Korea, donated 10,000 digital pianos and 30,000 blackboards to the ministry of education in Indonesia last month. Moreover, Korean 'Graduation song' (Lyrics: Yoon Suk-joong, Song: Jeong Soon-chul) is translated into Indonesian and saved in all of the digital piano for the Indonesian students since there is no song for graduation ceremony in some countries of the South East Asia. The song will be played during the graduation ceremony in this June.
In addition, there are popular Korean folksongs and children's songs contained in the digital piano. They are recorded in Korean, not in the local languages, and thus the students of Elementary School Menteng could learn not only the songs but also Korean, which contributes to making the music class more interesting.
Booyoung Co., Ltd. has established approximately 600 elementary schools in the South East Asia such as Vietnam, Cambodia, Laos, Thailand, East Timor, Malaysia and Sri Lanka so far and plans to expand the support into the Philippines, Myanmar, even Australia and New Zealand. Lee Joong-keun, the chairman of Booyoung said "we hope the donation of digital piano could encourage cultural exchanges and promote amity between Korean and Indonesia" and "we will strive to support the educational environment in addition to cultural exchanges so that students could keep pursuing their studies", he added. The kind-hearted contribution of a company enables children to keep studying and dreaming.
1.5-ton truck conveying 'Ghanaian children's dream'
On 11th November 2010 the school of Oduponkpehe in Awutu Senya district, which is approximately 25 km away from Accra, the capital city of Ghana, was in a festive mood from the morning. It was the day when the inaugural ceremony of the children's library and mobile library for children in rural areas was held.
The library of the school of Oduponkpehe renovated from the 82.5㎡ interior has about 3,500 books including children's books, reference books for English, mathematics, and computer.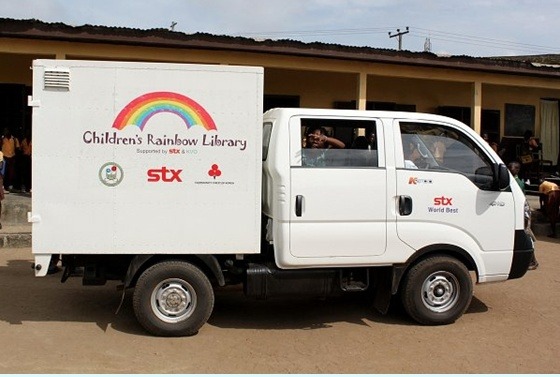 <The mobile library in Ghana, Africa sponsored by STX Corporation.
It is remodelled from a 1.5-ton truck>
In the urban areas of Ghana the standard of living is generally good and the accessibility to library is quite easy while in the rural areas the book distribution rate is very low due to the poor condition of road and transportation on top of a small number of libraries. The mobile library system is introduced to resolve this problem and the library of the school of Oduponkpehe will take a pivotal role in the system. The mobile library remodelled from a 1.5-ton truck will visit 24 schools in the rural areas including Koforidua and Kumasi as well as the capital city, Accra and provide service for 27,000 children from low-income families. Not only does it lend books but also organises various programmes such as book report contest.
Establishment of the children's library and mobile library in Ghana is a part of the global contribution projects carried out by a Korean company, STX Corporation. STX Corporation is leading to cultivate talented international students through establishing libraries for children from multi-cultural families in Korea, and awarding a scholarship of 3 million Chinese yuan to honour students from 5 universities in 3 provinces of Northeast China. STX Corporation hopes to contribute to the long-term advancement of Korea by means of education.
Have you heard of 'Lotte School'?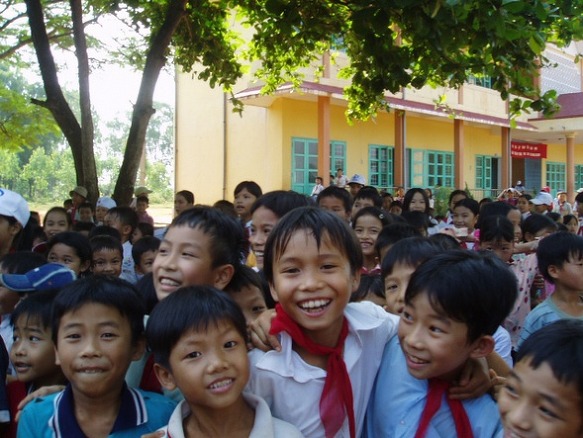 <Son Ky middle school in Vietnam renovated by Lotte Department Store>
Lotte Department Store has transformed Son Ky middle school in the remote area of Vietnam after the 15-month renovation work. That is why the villagers call it 'Lotte School'.
Hyundai Motor is promoting an environmental project, 'Hyundai Green Zone', which aims for reforestation of desert areas in China. The first target is Chakanor area within the Kunshantag desert in Inner Mongolia, China. The area is gradually losing pasture and turning into the salt desert due to desertification and strong alkaline soil. To prevent this process, Hyundai Motor plans to create a large scale of grassland by 2012, seeding indigenous plants that grow well on the alkaline soil.
Korean corporations would like to be a sincere friend to the world, delivering heart-warming 'Jeong' through their international Corporate Social Responsibility (CSR) activities.
Source: http://blog.daum.net/korea_brand/1028 (World Students In Korea Newspaper No. 36, March 2, 2011)